BEER & PANCAKES:
Scottsdale
April 16-19, 2020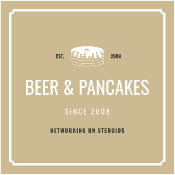 BEER & PANCAKES:
The 2nd Coming
For over a decade, a small group of entrepreneurs and like-minded people have gathered in a top-secret Scottsdale location to share ideas, best practices, and strategies for building and growing your business, sky-rocketing your career, and enjoying amazing health and energy along the way.
(Not to mention hanging out with long-lost friends and meeting new crazy ones)
Join us April 16th-19th for an ALL NEW world-class entrepreneurial mastermind with new faces (and some old ones).
For the newbies, Beer & Pancakes is a 3 day event. Having been to hundreds of conferences over the years, none of us want the typical "sit in a room and listen to people speak" ordeal.
Yes, there will be speakers, yes there will be listening and learning, BUT this event has some key factors that really create something unique and special.
From specific workshops, to game night, dine-arounds, go-karting, and general tom-foolery — this event isn't like all the other events.
It's small, it's intimate, and most importantly, we're going to build deeper and more meaningful relationships with everyone who attends.
WHEN AND WHERE?
April 16th-19th, 2020

Hotel Valley Ho
6850 E Main St, Scottsdale, AZ 85251
(Discount Code & Room Block Link Will Be Emailed Your Ticket, Lowest Price Guaranteed)
Optional event: On April 15th in the afternoon, we will be hosting the Beer & Pancakes Karting World Championship. For 12 competitive minded attendees willing to risk life and limb for an obnoxious medal and a year's worth of bragging rights, we are hosting an optional kart race. We will send details out by email to attendees after your have purchased your BnP ticket
SCHEDULE AND TOPICS
Wednesday April 15th, 2020
TBA: Optional Go-Karting Event
06:00 – 10:00: Hotel Lobby Hangout

Thursday April 16th 2020
08:00 – 09:00: Optional Health and Wellness Session (Yoga, Self Defense, Gym Time)
09:00 – 10:00: Break for shower, breakfast, etc.
10:00 – 10:45: To Hell and Back – TK (name withheld for privacy reasons)
TK is a brilliant trader who spent nearly 2 decades on the floor of the CME as well as a regular on CNBC, Fox Business, Bloomberg, and more as a market commentator. He also had an unfortunate run-in with the law… and since his brush with the man, he's amassed an even larger fortune AND now he has one hell of a prison story to tell.
10:45 – 11:30: Fasting For Weight, Energy, and Other Fun Life Hacking Tricks – Jill Speck
Our resident brilliant (and beautiful) Jill has lost an incredible amount of weight following a specific fasting procedure that she'll share with us here. Looking for weight loss, trimming up, or just more energy overall? This is going to be fantastic!
11:30 – 12:15: Keys to Mastering Your Mind – Chris Waldron
Chris has been a long time property manager and a master at managing time, people, resources, and technology. In the past 2 years he has exploded on the scene as an Executive Accountability Coach helping clients stay focused, stay on task, and more importantly, keep their mindset on point. He'll share key strategies for getting even the more neurotic of us to be more effective and get more done.

12:30 – 2:30: Lunch
02:30 – 04:00: Value Chain: Creating Raving Fans (Not Satisfied Customers) – Steve Hilgart

For the past 5 years, Steve has been the Top National Speaker and Trainer for Tony Robbins. He's spoken to and worked with over 2,500 companies from the local real estate office to the Fortune 500s. His role has been organizational turnaround. He'll teach us the process to taking any company, finding the missed opportunities, and getting your business (and people) to run like a well-oiled machine.
04:30 – 06:00: Breakout Mastermind Sessions
06:00 – 08:00: Break
08:00 – 10:00: Pool party and ice breaker event

Friday April 17th 2020
08:00 – 09:00: Optional Health and Wellness Session (Yoga, Self Defense, Gym Time)

09:00 – 10:00: Break for shower, breakfast, etc.
10:00 – 10:45: Dealing with Overseas Suppliers
Arun Siva will share his experiences on the importance of setting up quality control systems with overseas suppliers to ensure your supply chain functions smoothly. He will run through his own checklist for dealing with suppliers and how to minimize the red tape nightmare many have experienced.
10:45 – 11:30: From CPA to Business Acquirer to Nationwide Franchisor
The esteemed Kyle Derstler will share his experience on how he transitioned from excitement of being a CPA, to a business acquirer, and on to a franchisor with 25 locations…….in only 3 years. Hopefully Kyle will have time to discuss expansion plans for 55+ locations nationally in the next couple of years.
11:30 – 12:15: Warehouse Hacking
We've all heard the term "house hacking" and how to live rent free while collecting cash, but what about warehouse hacking? Bobby Cates will share his experience with warehouse hacking for free rent and positive cashflow and how he structured the deal. Bobby swears to me he'll even share numbers.
12:30 – 2:30: Lunch
02:30 – 04:00: Options Trading For Cashflow and Risk Minimization – Bobby Casey
You wouldn't know it by looking at him, but Bobby is pretty damn smart. Having opened his first brokerage account at 14 years old, he's master the art and science of options trading. In just 5 years he took a $100,000 investment and turned it into over $1 Million using a very specific (and repeatable) process he will teach us during this workshop.
04:30 – 06:00: Breakout Mastermind Sessions

06:00 – 08:00: Break

08:00 – 10:00: Dine around
Saturday April 18th 2020
09:00 – 10:00: Break for shower (please do this), breakfast, etc.

10:00 – 10:45: The Evolution of Money: Cryptocurrency

Rolf Versluis is one of the founders of the Horizen is one of the top privacy coins in the cryptocurrency universe. He will be discussing the evolution of money and how he believes cryptocurrency, and specifically privacy coins, are the future of money.
10:45 – 11:30: TBA

11:30 – 12:15: TBA
12:30 – 2:30: Lunch


02:30 – 04:00: Solving Unsolvable Problems with a Real Mastermind – Zane Pucylowski
Zane runs a crazy Engineering firm in Georgia. His clients range from basic high end construction to creating stages for the WWE. Every day his clients bring him "unsolvable" problems. During this workshop he's going to show us how to use proper mastermind techniques to solve the unsolvable problems that arise in our lives and businesses.
04:30 – 06:00: Breakout Mastermind Sessions


06:00 – 08:00: Break

08:00 – 10:00: Dine around

TICKETS

Tickets for the event will be $459… but if you act now you can get a steep discount making the tickets only $449.
The ticket price will include attendance to the event each day, buffet lunch on all days, and the pool party event on the first day (which includes food, but not alcohol).
You'll be responsible for your travel and accommodations. We have secured a very good discount with Hotel Valley Ho of $299 per night. As a cherry on top, our group rate at Hotel Valley Ho includes a room rate guarantee that says if you find a better rate than $299 after you have booked your room, they will refund the difference.
Once you get your ticket, you will receive an email with additional information about the hotel booking code and other details.
You can get your ticket by click this button here:
Count me in on this cool shit!